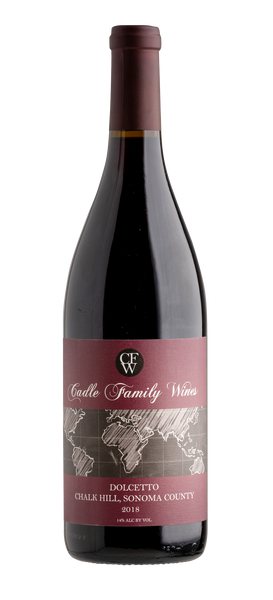 2018 Dolcetto, Chalk Hill
2018 Dolcetto
100% Dolcetto
Vineyard: Located in the Chalk Hill AVA, this small (two row) planting of Dolcetto at the top of the Windsor Oaks vineyard is the ideal spot for Dolcetto. Fog through the Chalk Hill gap, allow this Dolcetto to ripen slowly and keep enough of it's acid during ripening to get the quality of fruit I am looking for. 
Winemaking: The harvest fruit was destemmed, then left on the skins cold soaking for two days. Too much skin contact in Dolcetto can lead to too much skin tannins so we tasted daily to find the optimum time to inoculate. We inoculated with a Piedmont strain of yeast. Wanting to keep the natural acid in the grapes, the skins were pressed just before finishing fermentation, and transferred to neutral French oak barrels The wine finished fermentation, then malolactic fermentation in barrel and was tasted weekly for the ideal time to bottle.
Tasting notes: Vibrant ruby red in color adorned with cranberries, dried cherries and strawberry jam with a lively mouth feel and a zesty finish.
70 cases produced. Alcohol 14%, pH 3.60, $42/bottle